Eloro Resources (TSX.V: ELO)
Announced results of additional modeling of ground magnetic data and completion of an initial Induced Polarization/Resistivity survey on the Casiterita property adjoining the Iska Iska Silver-Tin Polymetallic property to the southwest.
.
.
.
.
.
.
| | |
| --- | --- |
| Eloro Resources | TSX.v : ELO |
| Stage | Exploration |
| Metals | Silver, tin, lead |
| Market cap | C$246 m   @ C$3.65 |
| Location | Potosi, Bolivia |
Magnetic data strongly suggest that a large intrusive body lies below the Iska Iska Caldera Complex and that it is nearer to surface on the Casiterita property. This intrusive is approximately5km long by 3 km wide.
Diamond drilling and geophysical surveys are in progress to test for a potential major tin porphyry south of Iska Iska and on the adjacent Casiterita property.
TORONTO, Feb. 14, 2023 (GLOBE NEWSWIRE) —Eloro Resources Ltd. (TSX-V: ELO; OTCQX: ELRRF; FSE: P2QM) ("Eloro", or the "Company") is pleased to announce results of additional modeling of ground magnetic data and completion of an initial Induced Polarization/Resistivity survey ("IP/Res") on the Casiterita property adjoining the Iska Iska Silver-Tin Polymetallic property ("Iska Iska") to the southwest.
These new data, combined with previous magnetic modeling and borehole IP/Res surveys ("BHIP") on Iska Iska, have significantly enhanced the understanding of the overall geological environment on both properties and outlined major new targets for exploration on the optioned Casiterita property (see Eloro's news release dated November 22, 2022).
Figure 1 is a plan map showing the combined magnetic analytical signal for Iska Iska and Casiterita. These data strongly suggest that an intrusive body approximately5 km long by 3 km wideextends across both properties.
Figure 2, is a longitudinal section of an updated 3-D inverse magnetic model incorporating new magnetic data from Casiterita showing the remarkable continuity of the magnetic anomaly from the Santa Barbara Deposit area southwards to Casiterita, a distance of 4.5km.
Along this section, late east-west striking faults progressively down drop the magnetic body to the south before it is again uplifted across a graben structure immediately south of Porco-Mina 1-2.
It is believed that the magnetic anomalies to the south potentially reflect a major tin porphyry for which we see evidence in the drill results on the southwest side of Santa Barbara and in deep holes where the bottom intersections typically contain tin.
.
.
.
Dr. Bill Pearson, P.Geo., Eloro's Executive VP Exploration commented:
"Geophysics continues to be a very effective exploration tool at Iska Iska and now at the Casiterita property. We plan additional BHIP and IP/Res lines in the Porco area north of the magnetic anomaly to tie this area to the major conductive zone further south.

"Drilling has commenced, initially in the Porco and Mina 1-2 areas, then will move into the Casiterita property to test this major target for a potential tin porphyry once old roads are rehabilitated and drill pads prepared."
.
.
Dr. Chris Hale, P.Geo., Eloro's Chief Geophysicist commented:
"The conductor revealed by the Casiterita IP/Resistivity survey is remarkable both for its strength and its areal extent.

"The coincidence of conductive and magnetic anomalies suggests that pyrrhotite may be responsible for both expressions. The highly conductive, deep sulphide zone found in Iska Iska BHIP surveys and intersected in several deep diamond drill holes now appears to extend southward into Casiterita where the lower elevation allows it to be detected nearer to surface.

"This is an important marker because such sulphide zones commonly occur as halos around many Bolivian tin porphyry deposits."
.
.
Figure 1: Plan map of Analytical Signal for Iska Iska and Casiterita showing likely extent of major magnetic intrusive body.
.
Figure 2: North-South Longitudinal Section showing Inverse Magnetic Susceptibility Model.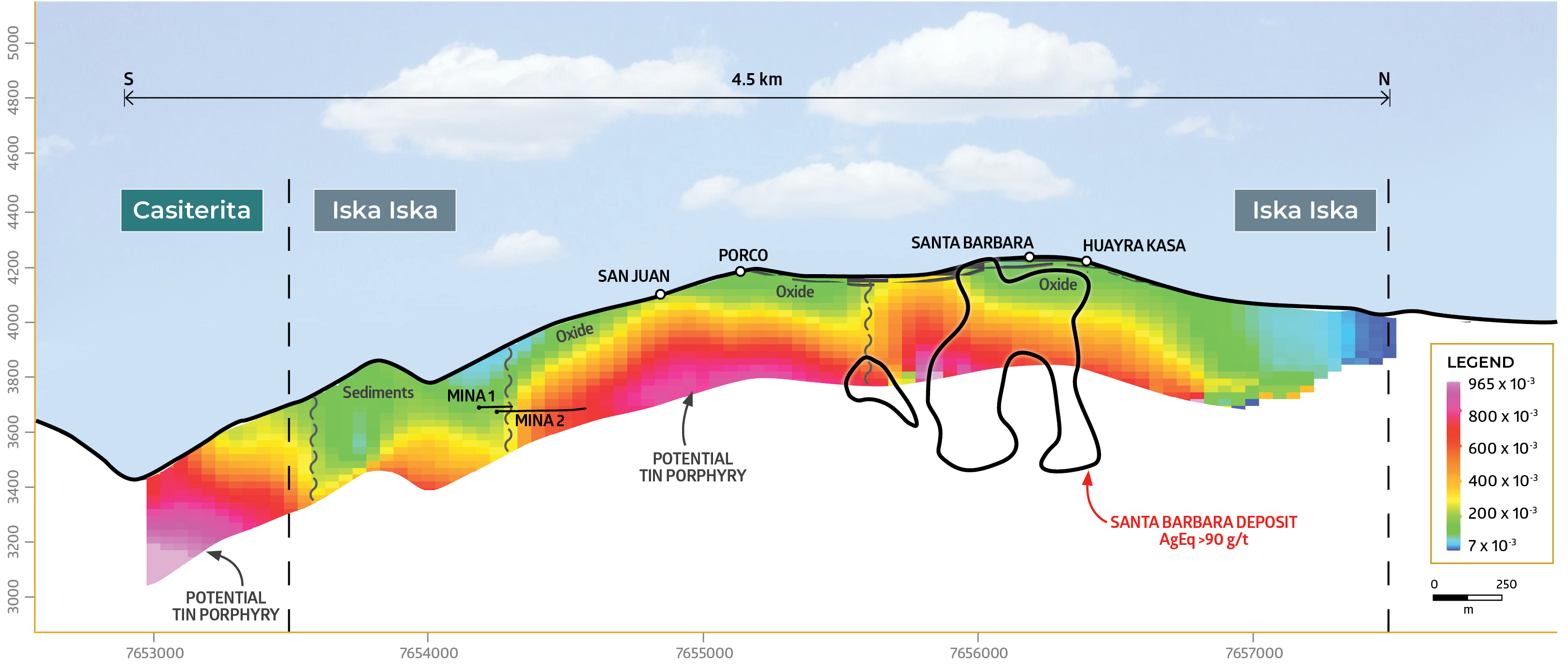 .
.
For brevity, this summary has been redacted, to read the full news release, please click HERE
.
.
=======
!Afcbok20.
City Investors Circle is based in the financial district in the City of London
We present interesting and exciting junior mining companies listed on the ASX and TSX stock exchanges to a group of city professionals, and private investors, all of whom are active investors with a mandate to invest in junior mining companies.
Our audience is selected and invited individually to ensure interest and relevance for the presenting company.
Meetings are non deal, small group, highly focused and engaged, with a lively Q and A to follow the main presentation.
We create awareness, and maintain interest in presenting companies by disseminating their future news to our entire investor group via email, social media, and our Monthly Review newsletter.
If you wish to present to our select group of active mining investors, please email andrew@city-investors-circle.com
.
=======
,
This website is not sponsored, we are truly independent, and will always remain so.
Companies featured here have either presented to the Circle in London, or have been selected because they are considered to have interesting projects, in good jurisdictions, run by an experienced management team.
All information used in the preparation of this communication has been compiled from publicly available sources that we believe to be accurate and reliable, however, we cannot, and do not, guarantee the accuracy or completeness of this.
These articles are for awareness and informational purposes only, and are not recommendations in any form.  Always consult an investment professional.
.
.
.
Disclosure
At the time of writing the author holds Eloro Resources.