Minera Alamos Inc. (TSX.V: MAI)
Announced that this week, the Company successfully executed the first planned production blasts at the Nicho Norte pit, at the Santana gold mine in Sonora, Mexico.
.
| | |
| --- | --- |
| Minera Alamos | TSX.v : MAI |
| Stage | Development |
| Metals | Gold |
| Market cap | C$299 m   @ 71c |
| Location | Sonora, Zacatecas, Durango – Mexico |
.
.
Comment
It's good to see Minera Alamos delivering on stated objectives, and bringing a mine through into production on target and on budget, despite the huge challenges Covid 19 has thrown at them in the past year.
They are a prime example of a quality mining company doing things the right way, in my opinion.
There is no substitute for good management.
.
First Blast Completed at Santana Gold Mine as Mining Operations Commence; Fortuna Update
.
Minera Alamos Inc. (the "Company" or "Minera Alamos") (TSX.V: MAI) is pleased to announce that this week, the Company successfully executed the first planned production blasts at the Nicho Norte pit at the Santana gold mine in Sonora, Mexico. With this inaugural blast successfully completed drilling has already begun on subsequent blasting as the Nicho Norte pit is opened up.
.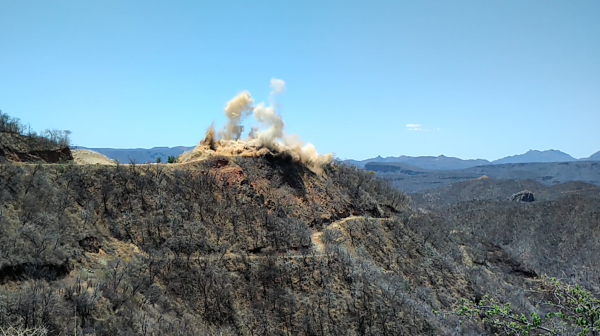 Inaugural mining blast at the Nicho Norte zone – Bench 905 (Courtesy of MInera Alamos)
.
The initial blasting at Nicho Norte provided excellent fragmentation and further optimization is planned as blasting operations continue.  Stockpiling of the mineralized material is ongoing in advance of the initiation of screening and crushing activities.
This first material will be used to test the leaching circuit and commission the carbon plant prior to continuous loading of the heap leach pad as the Company takes a prudent approach to ramping up operations at Santana throughout the remainder of 2021 ahead of more steady state operation in 2022 and beyond.
.
Minera Alamos Management Comments
"The Company is tremendously proud of the efforts of our Mexican operations group and their success in moving a new gold project through construction and into operations during the worldwide Covid-19 pandemic.
"It has required major perseverance and significant skill and creativity.
"The start-up of operations allows us to efficiently perform our final optimizations at a production scale while moving towards commercial production. 
"It is an exciting time for everyone in the Company and our investors as we make the final transition to a gold producer."
Darren Koningen, CEO of Minera Alamos
.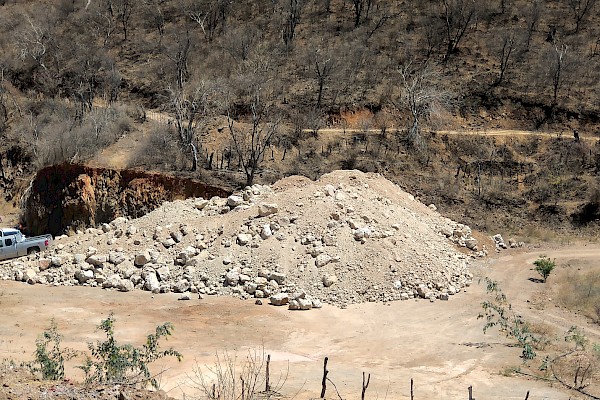 Stockpiling of mineralized material in preparation for screening and crushing (Courtesy of Minera Alamos)
Fortuna Royalty Option Extension
The Company and Osisko Gold Royalties ("Osisko") have mutually agreed to extend the option period of the La Fortuna royalty agreement until May 15th 2022. The extension provides additional time for the Company to evaluate project development sequencing following the start up of operations at the Santana gold mine and to maintain financing flexibility for the construction capital required for the building of a gold operation at the La Fortuna project.
.
Cautionary Statement
The Company does not have a feasibility study of mineral reserves, demonstrating economic and technical viability for the Santana project, and, as a result, there may be an increased uncertainty of achieving any particular level of recovery of minerals or the cost of such recovery, including increased risks associated with developing a commercially mineable deposit.
  Historically, such projects have a much higher risk of economic and technical failure. Failure to commence production would have a material adverse impact on the Company's ability to generate revenue and cash flow to fund operations.
Mr. Darren Koningen, P. Eng., Minera Alamos' CEO, is the Qualified Person responsible for the technical content of this press release under National Instrument 43-101.
,
To read the news release PDF, please click HERE
=======
.
City Investors Circle is based in the financial district in the City of London
We present interesting and exciting junior mining companies listed on the ASX and TSX stock exchanges to a group of city professionals, and private investors, all of whom are active investors with a mandate to invest in junior mining companies.
Our audience is selected and invited individually to ensure interest and relevance for the presenting company.
Meetings are non deal, small group, highly focused and engaged, with a lively Q and A to follow the main presentation.
We create awareness, and maintain interest in presenting companies by disseminating their future news to our entire investor group via email, social media, and our Monthly Review newsletter.
If you wish to present to our select group of active mining investors, please email  andrew@city-investors-circle.com
.
=======
,
This website is not sponsored, we are truly independent, and will always remain so.
Companies featured here have either presented to the Circle in London, or have been selected because they are considered to have interesting projects, in good jurisdictions, run by an experienced management team.
All information used in the preparation of this communication has been compiled from publicly available sources that we believe to be accurate and reliable, however, we cannot, and do not, guarantee the accuracy or completeness of this.
These articles are for awareness and informational purposes only, and are not recommendations in any form.  Always consult an investment professional.
.
Disclosure
The writer currently owns shares in Minera Alamos, bought in the market at the prevailing price on the day of purchase.
.
To read our full terms and conditions, please click HERE